The Fencing Pro Testimonials
"The three gentlemen were professional, friendly and a pleasure to have on the job. The site was left clean at the end of each day and their attention to detail was great. Troy made sure the new trellis matched to old design with great attention to its detail. My compliments to the men. Good job."
"We are very pleased with the fences and how the crew behaved and ran the job. We have heard from neighbors on the east and south sides that your crew was very polite and considerate to them also."
"Not only will we recommend you to anyone who asks, I will also phone again when we finish our pool and are ready to fence it in."
Your office manager, Heaven Casey, has been a pleasure to work with. When I received the original quote without optional pricing for metal posts and screws on the street side of my property, she promptly revised the quote. She was considerate of the tight timeline that the City of Orange had imposed to have the fence replaced and coordinated the quick processing of the contract that was signed by both my neighbor and me. She has the dedication to ensure that the paperwork is correct and has a great personality, a true asset to your company.
I just wanted to write you to say thanks for the great work on our new gates at 5567 E Lonna Linda. They look awesome – your guys really did a good job on the workmanship. Well done!
I have been very impressed with the professionalism demonstrated by The Fencing Pro employees and am very pleased with the work completed last week. From the bid and spec information provided by Troy and Heaven to the installation by Robert and Ryan, it all exceeded my expectations. The bid information was complete and detailed and follow up questions I had were answered timely and completely. Installation was very professional, completed on time and the Excel iron fence looks beautiful. Robert was very thorough in making sure the posts were completely vertical and the horizontal rails level. Cement foundations from the old posts were removed and the ground was leveled. Thank you for excellent customer experience and I look forward to doing business with The Fencing Pro again.
I wanted to let you know how pleased my wife and I are with the patio cover Troy and his crew built. It matches the design of the old trellis perfectly and looks great.
I want to compliment Troy and his crew. The three gentlemen were professional, friendly and a pleasure to have on the job. The site was left clean at the end of each day and their attention to detail was great. Troy made sure the new trellis matched to old design with great attention to its detail. My compliments to the men. Good job.
I've attached a handful of pictures in case you want them for your files. If you ever want a reference, please don't hesitate to call.
Again, thank you to you and your team for an excellent job.
Your crew repaired my 100-foot long red cedar fence in late July 2017, and I wanted to write to say how pleased my wife and I are with the work. To remind you, my fence sits on the edge of a fairly steep slope. The rains of winter 2016/17 washed out the ground supporting 9 of the posts holding up my fence. It began sagging and the posts began pulling out of the ground, so knew I needed to do something.
The fence is only 7 years old and, for the beauty of it, I specially selected Western Red Cedar in a clear grade, and stainless deck screws as fasteners when it was originally built. The fence faces our community pool and park. I wanted to keep what I had, but repair it, because I think it can last another 5 to 7 years.
I tried to get several estimates for a repair, as well as suggestions about how best to stabilize the fence, although I had some ideas of my own. Of the 6 contractors I contacted, only three showed up to look over the project and give me an estimate. One of the three who gave an estimate only wanted to demolish the entire fence and start from scratch, while another wanted to take out all 9 leaning posts and replace them with redwood, not cedar, for a very high price. Troy was the only one who provided a bid using a repair method along the lines I was thinking would work and for a fair price.
The repair was scheduled for late July, and Rhonda made that very easy. Your crew of 2 showed up a half an hour early and worked a full day. They dug out the nine posts, and only replaced 2 of them, resetting all 9 in new, deeper, and wider footings, reinforced with steel braces. They did other cosmetic repairs as well, and left the area broom clean, taking away with them the replaced wood and concrete debris from the old footings.
I'm confident that the repairs will hold up through future rainy seasons, and the fence will last for years into the future. Best of all, the expensive cedar lumber did not end up in a landfill.
My home is a traffic stopper! Since the fence was put in, I have had people slowing down and even stopping to look at the new fence. The excitement with all my neighbors is overwhelming — they, like myself, are so truly pleased with the beauty and workmanship of the fence.
Felix and his crew went above and beyond in workmanship, quality and attention to detail. Most importantly, they were always on time, and a joy to work with. I am so impressed with your organization, from the initial estimate to working with Leah in your office, and to such an incredible crew. The professionalism and the quality of the wood was excellent.
I would without a question, recommend your firm to anyone wanting quality workmanship and at such a reasonable price. You all have exceeded my expectations.
Thank You so much, and I am truly enjoying the beauty of my fence and so appreciate the value it had brought to my home and neighborhood."
Thank you for providing our family with such a pleasant work environment. All of your people had their pants finally around their bodies, and my daughter was never exposed to "low riders" and "boxers". I am thankful for the consideration. The entire crew was wonderful about answering questions, respecting the things I was concerned about and picking up after themselves.
I am generally allergic to work crews because of prior experiences, they have been dirty, smelly, and I had to view their underclothes whether or not I chose to. This has been a completely delightful, very positive change for the better!
Not only will we recommend you to anyone who asks, I will also phone again when we finish our pool and are ready to fence it in.
Thank you so much for keeping your time schedule, being prompt, and the work ethic your people have.
It was a joy to have them here. Oh, and the fences are beautiful.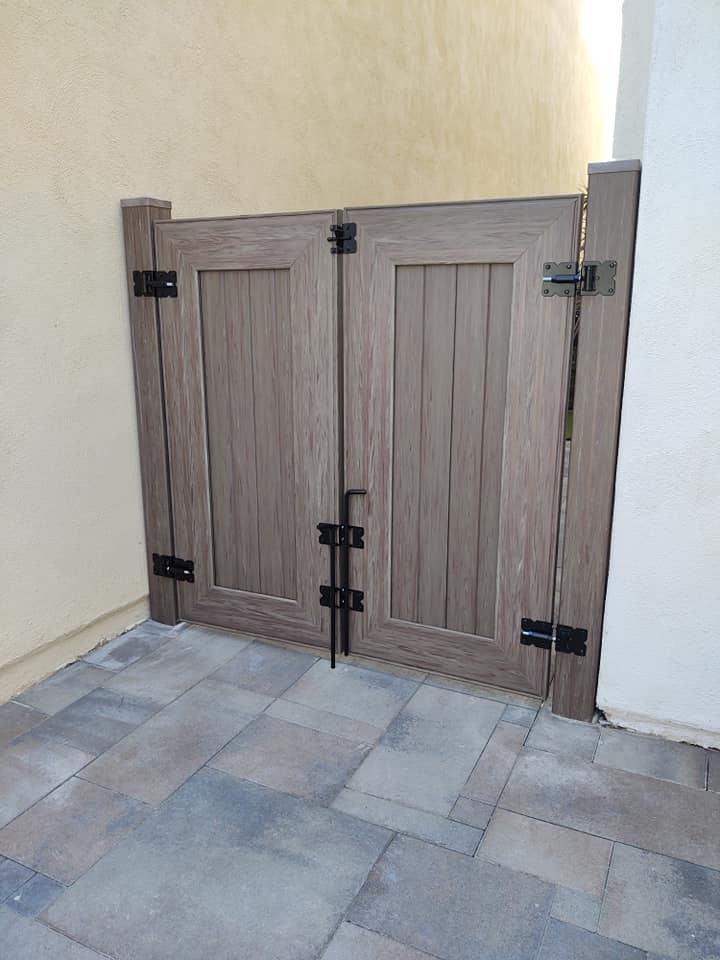 We also provide the following services:
Concrete Work
Underground sprinkler piping
Underground wiring
Patio covers
Arbors/ Pergolas
Custom milling
Hardscape backyard creations
Call today to learn more or get a free quote. 
Address
8462 Standustrial St
Stanton, CA 90680
Email
rhonda@thefencingpro.com
troy@thefencingpro.com